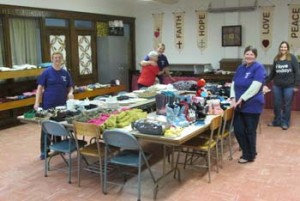 Trinity UCC has a commitment to be "at the heart of the community with the community at its heart." We strive for this through our outreach programs, including:
Findley School – Trinity provides clothing, supplies and volunteers to the Findley Adopt-a-School program.
Five for Five – Trinity supports all five of the United Church of Christ's special offerings, which include Our Church's Wider Mission (OCWM), Neighbors in Need, The Christmas Fund, One Great Hour of Sharing (OGHS) and Strengthen the Church.
Prayer Chain – The telephone and e-mail chain that prays for those in crisis and in need of assistance.
Empowerment Scholarship Project – Supports disadvantaged and homeless children in the Akron Public schools by providing school uniforms.